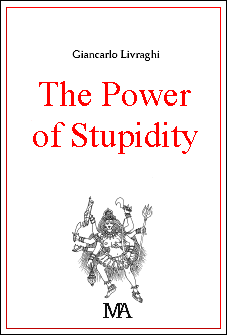 Stupidity is the greatest
destructive force
in the history of humankind.
It can't be totally defeated.
But there is a lot that we can do
to reduce and control its power.
The more we understand it,
the better we can avoid
or prevent its awful effects.
An easily and pleasantly readable book,
stimulating, provocative and intriguing,
while sound in depth
and thoroughly serious
about a rarely studied,
very dangerous problem.

It isn't a survival guide
or a "how to" manual,
but it offers practical solutions
to improve those human qualities
that counteract stupidity.



---
Il potere della stupidità
Published in Italian in 2004
Third edition in 2008
---
El poder de la estupidez
Published in Spanish in 2010
---
---