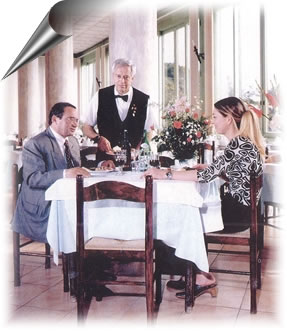 The refined and elegant restaurant will know how to surprise you with kitchen and with an impeccable service, it is suitable for banquets and unforgettable ceremonies, with room to the piano raised again for general 110 places and the 3 rooms to the superior piano, uniforms from flowing doors for general 500 places.

These characteristics of refined elegance united to the care devoted to Roman and laziale kitchen does the ideal place for lunches and suppers in an intimate and exclusive atmosphere of it also.

The splendid panorama that enjoys from superior rooms contributes to make each meeting a day unforgettable, in fact when the time is beautiful it from superior rooms is possible admire the dome of S. Pietro in Rome and the sea.