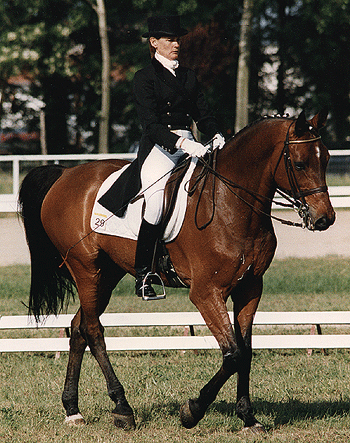 Marcia Vahlberg Parronchi

- Federally Accredited Instructor at 3 rd level, specialized in Dressage, a national Dressage Judge, and one of the pioneers of Dressage in Italy. Since coming to Italy in early 70' s she has mainly dedicated her activities in the field of Dressage, after having competed in both Jumping and Eventing. She has been many times a rapresentative of the Italian National and International team riding her italian bred Orob della Crucca.

Some of the horses ridden at National level are: Chianti, Chaton, Marquis, Wildfang. Her latest horse is Welfenstein . The same horses helped her to take her students to National level both in Dressage and in Eventing.

Caterina Ricci

became Italian YR champion with Marquis in 1997 and partecipated in the European Young Rider Championships. Several of her pupils have became succesful instructors, in particular

Riccardo Carapia.


.


Carmelo Strazzulla

An instructor at 2nd and a national Dressage Judge at level M; Carmelo has dedicated his time to Dressage since 1982 and partecipated in numerous national competitions. Since 1984 his passion has turned more to the Pony sector. He learned his tecnique at the Pony Club Fiorello (under the direction of Vittorio Orlandi), becoming 2nd level instructor . Since 1994 Carmelo is a Federal Instructor also specializing in Equestrian Rehabilitation.





Sarah Gonnelli

Instructor at Basic Level she came to he "I Noccioli " Riding Centre at the ag of 10 in 1987. Sarah has competed in all disciplines with ponies and horses. Today Sarah represents a trustworthy point of reference with her sensibiity and great technique, for the training of young or otherwise problematic horses as well as being on the road to becoming a good teacher.

Alessandra Valaperti - Has been with the "I Noccioli" Riding Centre since 1989 and is responsible for operating the Pony School. She gained her first experience in the courses held by Pony Club Fiorello obtaining her teaching Diploma.
She then went on to specialize in Pony Games getting her "Animatore Pony" title. With her training she is able to start even very young children riding using Pony Games as the bases of her teaching.