Building the
DELTA 4R5 speaker system
(a.k.a. Audiolab DELTA 4.5)
(web page under work)


Introduction
Here will be described my construction of the Audiolab Delta 4.5 speaker system.
The original project is by Renato Giussani a worldwide recognized italian loudspeaker system designer.

Delta 4.5 is a top-level quality system with a very original and good looking design. It is an up to date version of the Audiolab Delta 4, one of the first Giussani's designs that still now, after more than 30 years, is considered a very good sounding product.

The picture below is a rendering done during the project phase.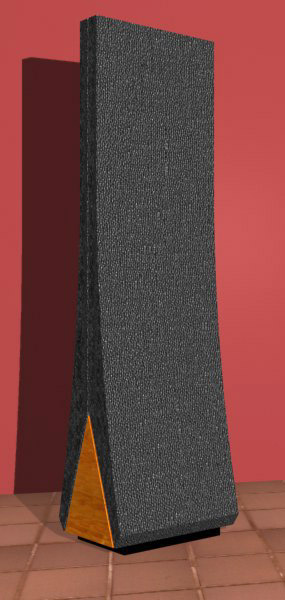 The total budget to build this system is around 1100-1200 €. This is only to cover parts and materials. I think that a commercial version of this system will cost more than 6000 €, but it sound is worth even a lot more than that!

I tried to follow the original project (no longer freely available) as close as possible.


Project
Speaker components
This is a 4-way speaker system.
These are the drivers used in the system.


Woofer
The woofer is the 4 ohm NHT 1259, a 12 inch made by Foster now discontinued.



And these are manufacturer's specifications:


NHT 1259 Specifications
Fs
16.5Hz
Nominal Impedance
4 ohm
Mmd
128.0 Grams
Cms
696.48 m/n
Vas
238.4 Liters
Rscc
3.52 W
Leap Krm
3.277 mW
Leap Kxm
10.063 mH
Leap Erm
0.772
Leap Exm
0.743
vcL
1.06mH @1K
Bl
9.574 Tm
Qms
2.680
Qes
0.533
Qts
0.445
Voice Coil Height
34 mm
Air Gap Height
8 mm
Xmax
13.0 mm Peak
SD
0.0491 m 3
Surround
Rubber
Cone Material
Polypropylene
Magnet
59 oz.
Voice Coil
50 mm
Music Power
300 Watts
Sensitivity
90 dB 2.83V/1m
Price
$150.00
Low-Mid (planar)
The low-mid is a planar component, the Bohlender Graebener's Neo8.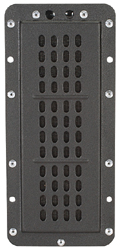 You can find it on Parts-Express catalog code 264-712.
Here is the link to the datasheet.


High-Mid
It is a Scan-Speak: D3806/820000.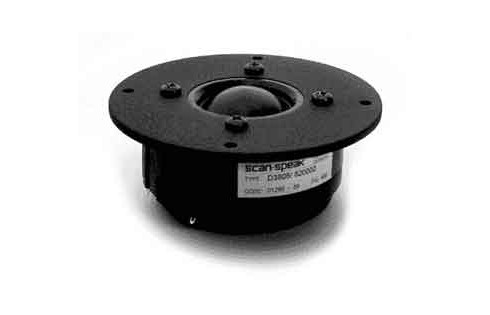 Tweeter
It is another Scan-Speak: D2010/851300.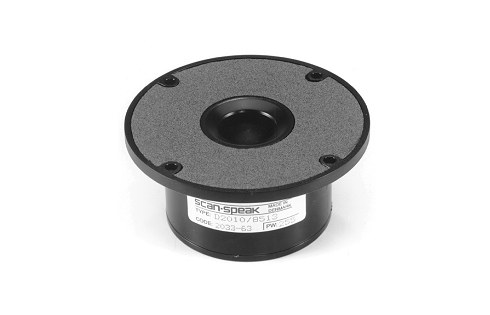 System enclosure
The cabinet is composed by a prism-shaped closed base for the woofer and an upper panel for the remaining 3 components. Two tall frames covered with fabric hide all the inner parts giving the entire system a monolithic look like an electrostatic system.

This is an exploded view from the original drawing of arch. Massimo Massetti.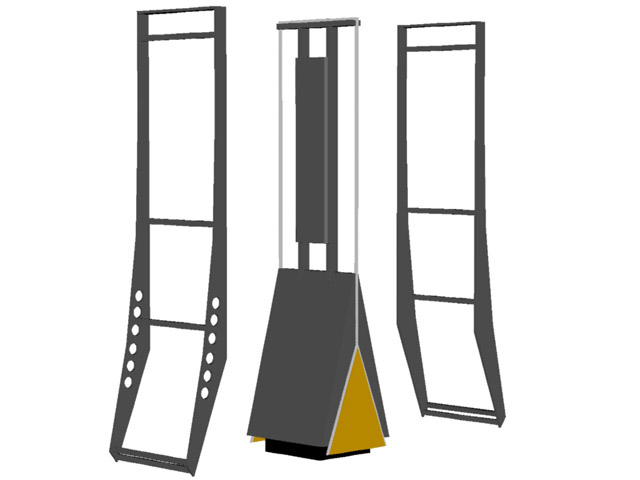 The Final Result
This is one of the completed speaker ...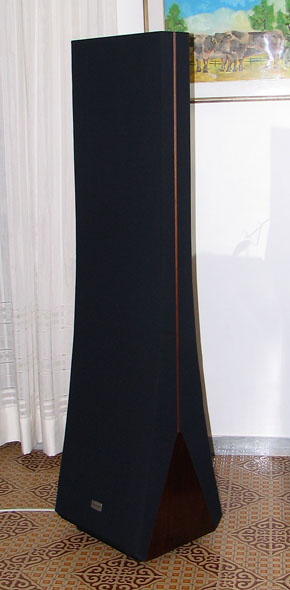 Acoustical Measures
Here are some room measures.
The mic was positioned in the listening position 2.8 meters from the speaker and 110 cm from the ground.

The first one is pink noise response 1/3 octave. Single speaker (red right speaker, black left one).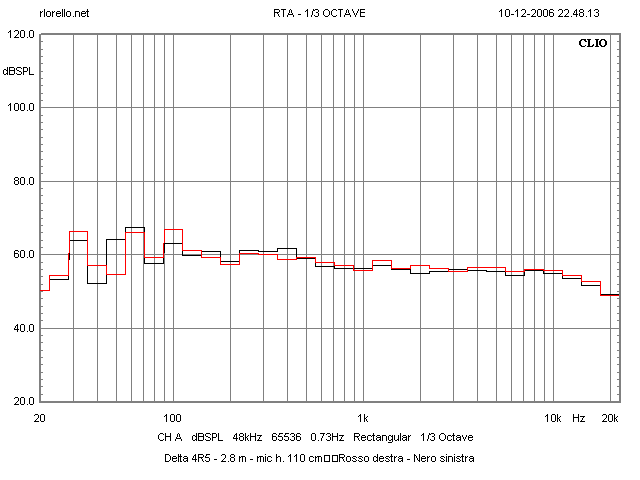 The second picture is still pink noise 1/3 octave but both speaker together.
Note the expanded scale.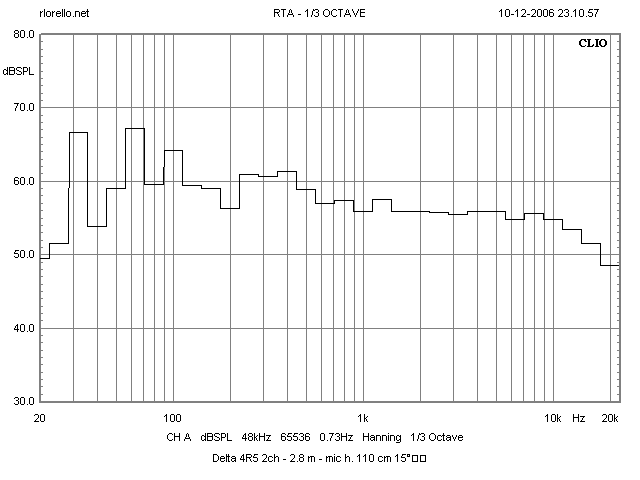 Last one is MLS reponse, right speaker only.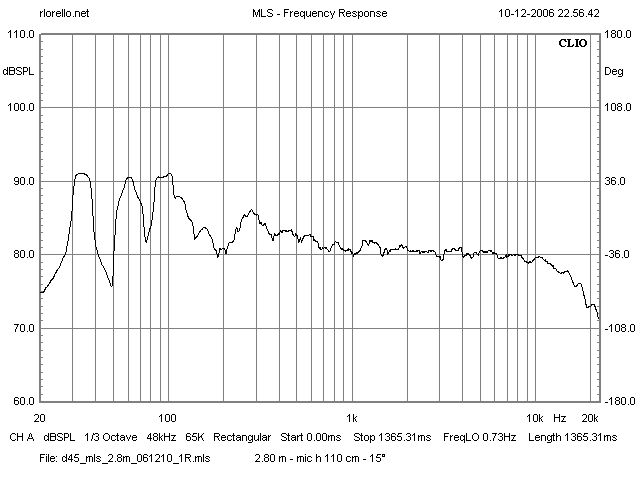 ---

Project © 2004-2005 Renato Giussani; This page © 2005-2006-2013 R. Lorello

Page last updated onTuesday, 01-Oct-2013 22:54:26 CEST ; Number of hits:31935